Welcome
Visit Spain, dedicated to my favorite subject.Here you'll find a wealth of travel hints and information about Spain.
Madrid Trade Shows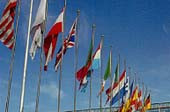 In recent years, Feria de Madrid has become one of Europe's most important trade show installations. Situated in the modern Parque Juan Carlos I, the trade show and convention center hosts some 50 events and more than 3 million visitors each year.
In addition to 8 pavillions with more than 130,000 square meters of exhibition space, the Parque Juan Carlos I includes a collection of modern office buildings, hotels, restaurants, parking for 14,000 cars and a championship quality 18 hole golf course. The installations are conveniently situated between Madrid proper and the city's Barajas International Airport with easy access by car, bus and taxi; and with a new Metro underground station under construction.
During the year, we'll be posting the trade show calendar on the events section of this Web site. The complete list of shows is available on the IFEMA Web, and includes a broad variety of interests including bicycles, motorcycles, dental technology, boats, leisure, and so on. Among the key shows you'll find are:
FITUR - International tourism show (February)
ARCO - International modern art show (February)
EXPOFRANQUICIA - International franchise show (April)
SALON DEL AUTOMOVIL - International automobile show (May)
SIMO TCI - Computer and telecommunications show (November)
FERIARTE - Art and antiques show (November)
There are events for most interests, markets and industry sectors. While you're here, don't miss the great city of Madrid.
---
For more information on Madrid Trade Shows
IFEMA
IFEMA is the organization that runs & organizes the Madrid Trade Shows

Parque Ferial Juan Carlos I
Apdo. de Correos 67.067
28042 MADRID
Tel: Int'l + 34 1 722 51 80
Fax: Int'l + 34 1 722 58 01
Web: http://www.ifema.es
E-mail: infoifema@ifema.es