Welcome
Visit Spain, dedicated to my favorite subject.Here you'll find a wealth of travel hints and information about Spain.
Granada, the Alhambra & La Costa Tropical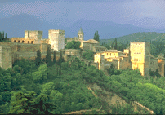 One of the most picturesque spots in all of Spain is Granada, and last week I was fortunate enough to once again spend a few delightful hours roaming the area around the Alhambra, the old Moorish fortress that overlooks the city, and visit the fabulous gardens of the [Moorish Emir's] Generalife palace.
The trip down from Madrid is an easy one - no more than 4 hours keeping the car at the 120 km/hr limit. The route heads south from the capital on the N-IV 4-lane divided highway, passing through Don Quijote's La Mancha, dropping down off the central plateau into Andalucia via the "Despeñaperros" pass. The road to Granada splits off the N-IV at Bailen, and goes on through the seemingly endless olive groves of Jaen before crossing over into to the province of Granada.
For me, Granada, the Alhambra and Generalife are among the truly beautiful spots on earth; and is included in UNESCO's World Heritage List. Each year tens of thousands of tourists flock to appreciate the splendor that was once the Moorish Empire in Spain. While Moorish rule ended in 1492, the same year that Columbus "discovered" America, their culture lives on in the castles, palaces, gardens and ruins that cover the hills above the andalucian city of Granada beneath the backdrop of the Sierra Nevada mountains.
This particular trip was a brief one, and after the stop in Granada, we headed on down to Almuñecar - a beautiful seaside town on the Mediterranean "Costa Tropical". The tropical sub-climate that gives the region its name provides year-round good weather; which together with a quiet atmosphere, nice [but somewhat rocky] beaches and truly excellent fish and seafood, make for a delightful vacation venue.
We spent two pleasant, restful days at the "Casablanca" hotel near the San Cristobal beach, enjoying owner/chef Emiliano's excellent cuisine. The return trip went smoothly, putting us back home in Madrid in a little over 5 hours.
October, 1997
Information Links
Costa Tropical
The Tourist Board of Andalucia offers helpful information about the Tropical Coast area of Motril, Salobreña and Almuñécar.