Welcome
Visit Spain, dedicated to my favorite subject.Here you'll find a wealth of travel hints and information about Spain.
Golf in Spain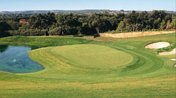 Golf and golf tourism have taken off in Spain. At last count, there are some 500 golf courses - not a huge number when compared to the British Isles or the US, but not bad given the country's benign climate which permits year-round golf on all but a few courses.
The 1997 Ryder Cup, gave a good indication of the level of interest golf has achieved in recent years in Spain. The '97 version was played on the magnificent Valderrama course in southern Spain; and this year's victorious European team was captained by the great Spanish golfer Seve Ballesteros. In fact, this is the first time the European leg of the Ryder Cup has been played outside the British Isles, and Ballesteros played a key role in securing a Spanish venue for 1997.
Golf isn't just about top professionals and perfectly manicured courses; in fact it's mainly about normal people enjoying this great sport on all sorts of golf courses. Golf is no longer the elitist sport it was here just a few years ago. There are some 120,000 registered golfers in Spain - and much of the credit is due to the sucess of Seve Ballesteros, José María Olazábal and a host of other top class professionals on the international golf scene; as well as the availability of many fine golf courses, often built specifically to cater to the tourist trade.
Tourist $'s cover about 40% of the green fees paid yearly in Spain, so it's not surprising to find a larger concentration of golf installations in the keys tourist areas of Andalisia(60) and Catalonia(44), but there are good courses all around the country: Madrid(23), Valencia(21) and the Balearic Islands(14). Some suggestions
The list of quality courses in Spain is extensive, but here are a few based on my own (12 handicap) experience:
Herreía Club de Golf - At El Escorial outside of Madrid, a truly beautiful layout overlooking the spectacular monastery.
Aloha Golf - A fine course on the Costa del Sol near Marbella.
Real Golf de Pedreña - Seve Ballesteros' home course in Santander, opened in 1929.
Golf Novo Santi Pectri - On the coast near Cadiz, a Ballesteros designed layout and a good test of golf.
Club de Golf Costa Teguise - On the Canary Island of Lanzarote, laid out around lava beds with black lava cinders for rough.
Information Links
Golf in Spain
Courses, reservations on line, search facility and more. Good Site!

ECS List of Golf Gourses
Golf in Europe's list of Spanish golf courses, arranged alphabetically.

The Ryder Cup
Official page of the Ryder Cup - lot's of good info, stories, analyses.