Welcome
Visit Spain, dedicated to my favorite subject.Here you'll find a wealth of travel hints and information about Spain.
A Visit to Barcelona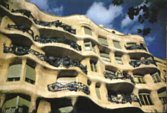 The modern, cosmopolitan city of Barcelona offers just about everything for today's tourist - sights, culture, cuisine, history, etc. With a population of 2 million, Barcelona is a major Mediterranean port, nestled in the northeast corner of Spain, not far from the border with France. Barcelona is the capital of the Catalonian region, as well as a major cultural and business center - most major companies choose either Madrid or Barcelona for their base of operations in Spain.
The area of Catalonia (Catalunya) today has some 6 million inhabitants, with Barcelona as the region's traditional capital since it came into being in the Middle Ages after the Frankish King, Charlemagne built up the area as a defense against invading Moors. This open area along the Mediterranean, east of the Pyrenees had been under Phoenician, Greek, Roman and Moorish control during its long history. The count of Catalunya joined forces with the Kingdom of Aragon in the early 12th century, while Aragon and Castilla were later joined into what is now Spain with the marriage of Fernando of Aragon to Isabel of Castilla in the 15th century - the same royal couple who later sent Columbus to "discover" America, and pushed the last of the Moors from the Iberian peninsula.
Getting there
By air

Barcelona's El Prat Airport was completely renovated for the 1992 Summer Olympics. It is situated about 12 km southwest of the city - and takes about 30 minutes in moderate traffic conditions, but can take much longer. A city bus service runs regularly between the airport and the Plaza de Catalunya with stops at Plaza de Espanya and Gran Via. There is also train service to the Sants train station from the airport.

By train &amp: bus

The city's major train station: Sants serves most major Spanish cities and is well linked to the underground Metro system. Train schedules and other information is available at RENFE (Spanish National Railway System) Web Site. The city's long-distance bus station is also located at Sants.

By road

Barcelona is well connected by good 4-lane highways with Madrid, Perpignan (France) and the Mediterranean coast to the southwest:

N-II Zaragoza-Madrid
North A-7, E-15 Girona(Gerona)-Perpignan
South A-7, E-15 Tarragona-Valencia-Almeria
Transportation
The Barcelona Metro underground train system is the fastest, most economical way to get around town. It covers the city quite well.
Bus: Barcelona also boasts an extensive bus network. Economical Metro and bus passes called "targetes" are available in several formats from Servi-Caixa ATM machines and other sources.
Taxi: There are taxis stands and circulating taxis all over the city. Rates are reasonable, but not cheap.
Where to stay and what to do
Barcelona's mild Mediterranean climate makes things pretty comfortable all year 'round. The city's a tourist paradise with plenty to see and do, whatever interests one might have. Finding a place to stay is not usually a problem, the hotel infrastructure was greatly improved for the Olympic Games in '92. It's hard to say what's the best (that depends on individual interests) but there's museums, art galeries, restaurants, festivals, vineyards, great beaches up and down the coast, golf, and lots more.